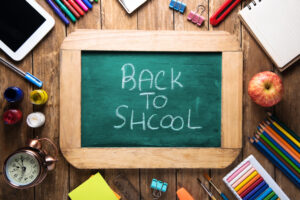 When I was little, I LOVED laying out my school supplies for the beginning of a new school year. Fresh pencils (or, once I was in high school, pens—that transition from pencils to pens was how we knew we were cooler and more grown up)…
Spiral notebooks…
And the binders! Oh, the binders!
I LOVED the binders. (Yes, yes I am Leslie Knope.) Fresh new containers, ready to be decorated and filled, bit by bit. Empty, and thus paradoxically full of possibilities.
Do you ever miss it? That feeling of a fresh new school year? That clean-slate-fresh-start-anything-could-happen-this-year sensation?
*****
It's hard to believe it, but it's September, and according to the meteorological calendar, summer is officially over and fall has begun. (Yeah, I just looked that up. The astronomical calendar gives the summer a couple more weeks—till September 22nd—but no matter what the calendar says, to me September 1 feels synonymous with the summer being over.)
Here in Philadelphia, the new UArts students are buzzing around Broad Street, and they are practically vibrating with the energy of NEW.
[Side note: how crazy is it how YOUNG those kids—sorry, young adults—look?! One of the more intense #thirtysomething milestones is the first time you look at college freshmen and think, "Oh my god, they are so YOUNG! Were we really that YOUNG?"…and somehow they just keep appearing younger every year.]
For the first 9 years after college, I was a teacher, so I had many a first day of school well into my adulthood. But even now, years after the last time I set up a classroom and stuck a nametag on a kid's cubby, I still get that back-to-school feeling. It's a feeling that never quite seems to go away. Every fall, I can feel it coursing through me.
Looking into the eyes of the new college students milling around, I recognize the magic shining in them—the excitement and possibility that comes with the beginning of a school year.
That magic is where you and your goals come in.
If you're feeling me on this—if you, too, feel that back-to-school buzz in your body and brain—I want to encourage you to take full advantage of that feeling.
Even if it has been years since YOU set foot in a classroom or sharpened a pencil, the energy that accompanies this time of year has the potential to be very powerful for you. I urge you to harness that potential.
Don't miss the opportunity to seize the back-to-school energy that is programmed into you from childhood.
Don't wait for New Year's.
Don't wait another 4 months to go after what you really, really want.
Start your new year now.
Your brain is POWERFUL, and you get to decide to make it your own personal "first day of school" anytime you want it to be—whether you're thirteen or thirty-nine.
Are you trying to shake off a summer stupor of good-enough-getting-along inertia? Or paralyzed by Thirtysomething Panic?
DECIDE to make the next 9 months of your life count.
Give yourself a year of learning, a year of growth.
Ready? You have some choices to make.
Choose Your Subjects
In school, you likely studied math, reading, writing, science, and history (and I can only HOPE you also had music and art and PE and drama and all those subjects that are just as important but the first to be cut…)
But today, you are your own superintendent, your own board of education, your own curriculum committee.
Whether you loved school or hated it, this is good news. Because you're in charge now.
You get to decide where to focus. You get to decide how to invest your attention, time, money, and energy. You get to decide what your 2016-2017 school year/LIFE year is going to be about.
And that's a serious responsibility.
So take it seriously.
Set aside some time to really take stock of your own dreams for your life. What do you really, really want to do with the next 9 months of your one precious life? What will your subject(s) be for the 2016-2017 School-of-You year?
Career? Relationships? Health and Wellness? Spirituality?
Throw the old curriculum guide out the window. What do YOU want to focus on?
Select Your Projects
Within the subject or subjects you've chosen for this year, what will your projects be? Get specific about what big goals you will achieve in your life this year.
Chances are, your projects are those deep longings and intuitions that are keeping you up at night, waking you up at 3am, or hitting you hard at random times throughout your work day. These are the dreams that scare you, but tantalize you. These are goals that may sometimes feel unattainable or at least very far away from where you are right now, but that are so anchored to the core of what you want most for yourself that you know they will just keep springing back up in your mind and heart, no matter how many times you brush them aside or put them off for "later." Select the projects that really matter.
Will you make a career change? Reboot that relationship? Write your book? Start dating again—get out there in spite of how freaking scary or exhausting it seems? Record and release those songs? Make that big move you've fantasized about for years?
It's time to declare your intentions. Be bold and clear. What projects will you take on this year?
Set Your Standards
When I was a teacher, we were guided by the standards for each grade level. Standards define precisely what students will know and be able to do each year. It's time for you to set your own standards for success.
What are your standards for yourself this year? What will you learn? As a result of working toward your projects, what will you be able to do by the end of this year? In order to achieve your bigger goals, what specific actions will you take this year? How will you measure this "school year"? How will you know this year was a success?
Be specific. What do you want to know and be able to do come June?
Assemble Your Teachers, Classmates, and Coaches
I still remember finding out I'd been placed in Mr. Kane's class for kindergarten. I was beyond thrilled. Mr. Kane was the coolest—he played the guitar and made up his own songs to sing to us. I felt like the luckiest kid in the world!
But you don't have to rely on luck. Unlike when you were in school as a child, you now get to choose your own teachers, classmates, and coaches.
The people you surround yourself with—whether you spend time with them directly or read or watch them from afar—will make a huge difference in your journey. You wouldn't expect to get through school all alone—why would you expect yourself to create thirtysomething success in isolation??
Teachers
Teachers come in so many forms. They can be people you interact with in the flesh, whether inside or out of a classroom. But your chosen teachers can also be people you access through the internet, books, or magazines. If you have an internet connection and a library card, you are RICH in information.
Your greatest teachers may be people you work with closely, people you only interact with casually, or people you never even meet.
Who can you take on—whether they know it or not—as your teachers, models, and mentors? What blogs and other websites can help you? What books can you read? Who will you choose as your respected, inspiring guides?
Classmates
The people you surround yourself with matter. When you're working to make changes in your life, it's important to deepen or forge connections with people who are on your wavelength. These are people who support you, believe in you, and make the journey more fun.
Some of your "classmates" will be friends and professional contacts you meet and spend time with in person. But if you're not connecting with enough of those people in your immediate surroundings, consider expanding your search. You may make the best connections with your tribe virtually, through forums or other online groups. (I know people who have met some of their best friends and greatest lifelong supporters this way!)
What community will support your growth? Think of the people who inspire you in your life. How can you nurture those existing connections? What steps can you take to create new connections?
Coaches
Coaches help you reach your potential and achieve what you want to. They see the best in you and bring it forward. They believe in you when you struggle to believe in yourself. They help you break down your terrifyingly huge goals into bite-size steps that you can take, bit by bit—and then they help you keep your momentum going up to and well beyond your initially imagined finish line.
That's me! Even if we are not currently working together one-on-one, I'm here for you, cheering you on and supporting you through this blog.
If you really want this year to be a game-changer for you, consider investing in yourself by hiring a coach you click with, someone who will be your thought partner, inspire you, champion you, challenge you, help you focus, hold you accountable, and never give up on you. [If you think that right-fit coach might be me, look below this article for some opportunities.] Your coach can also help you put together all of the above components.
Who can you enlist to coach you—to help you sharpen your vision, create your plan, be accountable for staying the course and taking consistent action, and reach your potential?
*****
Consciously and deliberately choosing your subjects, selecting your projects, setting your standards, and assembling your teachers, classmates, and coaches will put you well on your way to making this one of your best "school years" ever.
Whatever you decide to pursue, however you decide to pursue it, here's the most important message I have for you at this back-to-school time of year:
Don't drop out of your life.
I believe in you, thirtysomething. Even if you feel like you're on shaky ground right now, I know that you have what you need to begin to step into your most powerful, purposeful, joyful self.
So stay in "school."
Seize the September and make this the most powerful year of your adult life to date. The bell is ringing, so get your butt to class!
—–
If you are serious about your growth this year and want my personalized, consistent support, give me a shout. I can be along with you for the ride for the next 9 months. Set up an introductory session now.
OR, take advantage of this special opportunity:
A powerful one-day kickstart:
If you want a "Back-to-School" coaching day with me, I am offering a limited number of full-day sessions this fall. You + Me + a whole day dedicated to achieving your goals and overcoming your obstacles. Via Skype, phone, or (if you are in Philadelphia) in person.
Dates available:
Friday, September 23
Monday, September 26
Friday, September 30
Monday, October 3
Friday, October 14
Contact me now to schedule your "Back-to-School" coaching day.