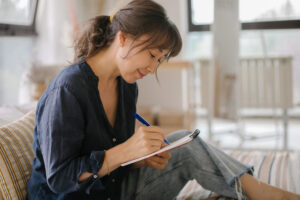 We're almost halfway through December—incredible, right? I'm finding it hard to believe the end of the year is in sight. The crazy all-over-the-place weather certainly didn't help with the confusion; in Philadelphia, as in many places, this fall was a full-of-surprises game called "What Season Is It, Anyway?"
But there's no doubt about it—here we are, closing out another year. And that means you have a powerful opportunity.
What you do in the next three weeks has the power to positively shape:
the value you gain from the past year (and yes, there is huuuuge value buried in there, even if it was a really tough year for you)
the momentum and energy with which you greet the new year
…and the focus, structure, and support you'll have to get you where you want to go over the next year of your life.
Here are three concrete ways to set yourself up for a great new year:
1. Take inventory of the past year.
Lots of people make New Year's Resolutions, but most people don't take the time to reflect on the year that has passed.
As a new year begins, we're often in such a hurry to "fix" ourselves and our lives that we don't stop to take stock of the year that's ending. Often, we just make last year's resolutions over again, and end up a year later in the same situation with the same goals and the same frustrations.
When you hurry ahead into a new year without looking back, you're likely to miss out on reaping the benefits of the previous year.
Here's a tool that will help you harvest the learning and "gold" from the year that's drawing to a close.
Don't set your goals for the new year before you do this!
2. Set some inspiring intentions for the coming year. 
After you have taken inventory of this year, you're ready to look ahead. Here are some questions to help you align your goals for the coming year with what is most important to you:
Imagine it's a year from now and you are looking back on next year—taking inventory again. What would make you feel the year was an amazing investment of your time, energy, money, and other resources?
On that day one year from now:

What would you like to be different in your career, relationship, home, health, or other aspect of your life?
What do you want to be the same (in other words, what do you want to give energy to maintaining)?
What already great parts of your life do you want to be even better than they are now?

How do you want to feel this time next year?
What do you value most? What values do you want to be sure you honor with your actions and energy this year?
[I strongly suggest you write your answers to these questions down, rather than just thinking about them.]
Setting these intentions will get you clear on your WHY: what is the driving force or meaning behind any goal you might have?
When you outline specific goals, action items, or New Year's Resolutions next year, be sure that they are aligned with the intentions you designed. That way you'll be making a conscious choice about where to direct your energy next year, and you'll also harness the fueling and sustaining power that comes with knowing your purpose.
3. Make a plan for success and lock in your support.
If you're headed into the holiday season feeling out of kilter in your life, it can be a huge comfort and source of pride to know that you already have a plan and support structure in place to achieve your goals next year, and that you've already taken a concrete step to move forward.
December is a fantastic time to begin coaching. Starting the new year with a commitment to yourself is a powerful statement of intention, and lays the groundwork for creating the big changes and achievements you want to make.
Historically, my clients who get started with coaching in December start the new year off with huge power, enthusiasm, excitement, and focus. It's awesome looking back on the beginning of our work, knowing that in the year that followed, they transformed their careers, relationships, and lives.
Get your introductory session on the calendar for December or in the first week in January, and hit the ground running in the new year. Finish the year knowing that you have a plan to achieve your goals in the new year—and harness the "Fresh Start" energy that's built in to January. Contact me now to reserve your session!
—
Make this a December to remember! Take inventory of the year that's coming to an end, set some inspiring intentions for the new year, and lock in your plan for success and the support you need to get you where you want to go. Those three steps will make a TREMENDOUS difference in getting your new year off to a powerful start.