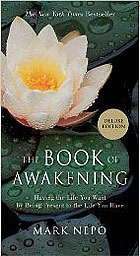 Resolving to be more present or take better care of your mental/spiritual/emotional self in the new year?
If you would like to maintain a mindfulness practice or incorporate meditation into your life, but you "don't have time," The Book of Awakening by Mark Nepo could be a great resource for you.
The book is set up as a "one-a-day," with entries from January 1 to December 31. (I sometimes like to just open the book up randomly and read the entry I open to, or flip through until I find something that resonates on a particular day.) Each entry opens with a quotation, followed by a story, an extended metaphor, or a description of a common human experience. The entry ends with a suggested meditation or reflective practice that is somehow connected to the story.
If you struggle to clear your mind when you meditate, or if you are keeping track of a million ideas and tasks at once, you may enjoy this book's approach of helping you to focus your thoughts on just one particular idea or theme for a few moments. Working through an entry each day may give you just the slowing down you need—an opportunity for gently reflective thought that gives you a break from the flurry of your day. For some, having a guided focus for your meditation or visualization can help you settle into a reflective state more easily than you do on your own. Because the entries are so short, you won't feel the need to wait to pick it up "until I really have time." Reading an entry and doing the meditation—or even just reading the questions—is a wonderful way to end your day, or to begin it. You may choose to keep it on your bedside table so that picking it up becomes a habit.
The Book of Awakening is, to my mind, on just the right side of woo; the writing is clear and poetic without being schmaltzy. The concepts and exercises offer helpful frameworks and images for working through challenges from grief to change to illness. There are many great things about this book that make it a wonderful New Year's gift to yourself or someone else you love.