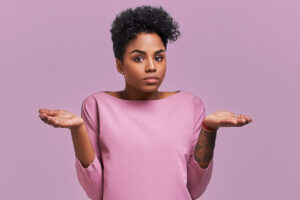 When you're in the midst of a career change, sometimes it can feel like you have no idea who you are or where you're going.
It's disconcerting to look ahead and see a big question mark.
We often feel grounded by what we do for a living—we hook our identity onto it.
This is encouraged by a culture where the question "So, what do you do?" is often the first point of connection after "What is your name?" when meeting someone new.
Similarly, your whole internal identity can feel called into question when you've just ended—or are considering ending—a long-term relationship.
Even if you consider yourself a pretty independent lady or fella, putting a big question mark next to a human constant in your life can start the identity wheel spinning.
When you're feeling confused, unrooted, and uncertain due to a huge looming question mark, here's a little game you can play, inspired by one of my favorite TV programs growing up. …
What Do We Know? A "Game" to Play When You Feel LostRead More »