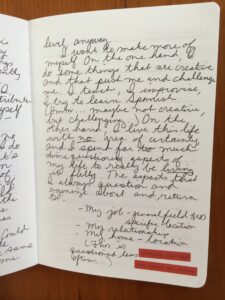 "I'm feeling all this weirdness lately. I feel apprehensive, depressed, frustrated, insecure, self-critical—all this at a time when trees are blossoming and temperatures are more—well—temperate. Spring is supposed to be a time of rebirth, of hope. Yet I feel worried and at times sad…"
"Becca asked me, 'Carrie, do you write? You should.' I've often felt like I should cultivate my writing skills—but I also end up feeling like I don't have anything of much importance or interest to say. I'm amazed, in this age of blogs, by how many people write their musings at length—often intelligently or at least interestingly. It makes me feel like I should have more to contribute—like I should push myself more to articulate stuff—or think things worth articulating. But there's no idea there—and when I do feel the need to write, it's usually just because I'm depressed about aspects of my life that wouldn't be of much interest to others. It ends up seeming like the same old song, with the same recurring themes of loneliness, confusion, and pent-up anxiety."
"Living in a city with everyone moving by so fast you feel like you're somehow not supposed to look at anything. You're supposed to be DOING THINGS…I'm finding myself obsessed with this idea that every single person in this city has a story. And we're not allowed to talk to each other. You don't just talk to strangers. Everyone has had a life so far. I find myself wanting to ask everyone I see…"
"I want to make more of myself. On the one hand, I do some things that are creative and that push me and challenge me. I teach, I improvise, I try to learn Spanish. On the other hand, I live this life with no area of certainty, and I spend far too much time questioning aspects of my life to really be living it fully. The aspects that I always question and agonize about and return to:
—my job—general field AND specific location
—my relationship
—my home–location (this is questioned less often…)
It's certainly not constant, but my bouts with loneliness come too often for the comfort of feeling 'normal.'
Do many of us feel normal?"
"I actually could do these things I don't, right?"
 . . . . .
My jaw dropped to the ground when I picked up this old journal on a whim, and found these musings from 2007.
Oh my god. It was like a window back into that sad, lonely, scary time.
I remember that confusion and pain so clearly. I felt so freaking lost!
Reading those words now, I feel so much compassion for myself.
But the time, I judged myself harshly.
I felt confused and like I had no idea what I was supposed to be doing, but it obviously wasn't quite this.
I felt guilty for questioning things I should just feel happy and grateful about.
I thought there was something really wrong with me. And I was terrified I wouldn't figure it out.
As a fairly private person, I kept a lot of this stuff bottled up inside. Which made me feel even more alone (and left me completely unaware of how normal the stuff I was dealing with is).
I didn't have a clue what to do. I didn't have a road map. I didn't know anyone else who was going through the same thing. (I realize now that many people were, but at the time, I had no idea that I wasn't alone.)
But finally, I decided I had to do something about the questions I'd been asking for too long.
With great effort and investment, I cobbled my own "figuring it out plan" together.
Gradually, I found the books and resources I could and created my own tools and ways of trying to figure it out.
At moments, it was exciting and exhilarating.
It was also lonely and scary and exhausting.
I came out the other side with a job I love, with clarity around my purpose and a permanent sense of joy in what I get to do every day.
I used to say, "I don't know how I did it"—in acknowledgment of how scary it was and how miraculous it feels now. But with the benefit of hindsight and the determination to turn my own findings into a process others can follow, I DO know how I did it. And I want to share it with you.
I don't want anyone to have to go through this kind of transition alone, to start from scratch without support. That's a big part of why I do what I do. (I also do it because it's fun and inspiring and super-interesting!)
Today I get to work with so many awesome people (who usually have no idea how awesome they are) who are trying to find their fit in career, relationship, location, and other areas.
Are you trying to navigate a career change or create more satisfying relationships? Do you feel alone as you try to figure it out? You aren't alone. If you want support, here are THREE opportunities for you: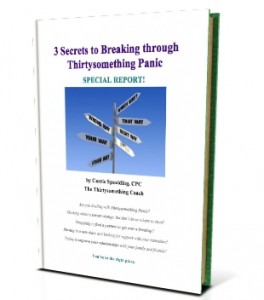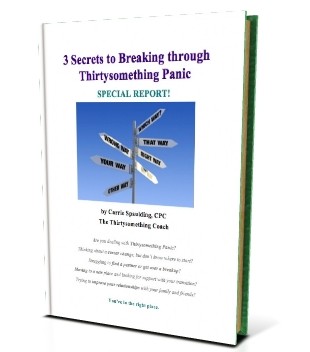 [call_to_action_small title="1. Get started right this very second with my FREE special report 3 Secrets to Breaking through Thirtysomething Panic." excerpt="You'll also get more powerful and supportive tips and tools for your career, relationships, and life." buttonText="Get it here!" buttonUrl="http://eepurl.com/soYkf" buttonNewWindow="true" buttonType="fancy" buttonCorners="rounded" /]
2. Schedule a private "Get Going" session.  This is a 90-minute session that will help you to get clearer on your goals and vision, uncover any challenges that could be slowing you down or sabotaging you, assess how ready you are to achieve your goals right now, and give you an overview of the process I use with my clients, which will give you an overview picture of the steps you need to take so that whether you work with me or do this work on your own, you'll be able to laser focus on taking the steps you need to get you where you want to go.
You'll leave the session with more energy, motivation, and commitment to really make your goals happen.
Interested? Request one of the slots here!
3. A lot of people hire me to help them figure out their career and relationship transitions, and to bring balance, purpose, and joy to their lives. And I love working with individuals!
But I want more people to have access to this stuff. Because when we're going through transitions like this, we need tools and support–someone to believe in us and help us figure it out.
Another part of my mission is to connect people to a larger community of searching thirtysomethings and almost-thirtysomethings. When you're making big changes in your life, it's so powerful to have the support of a community who is going through the same stuff.
That's what my Career Clarity program is designed to provide.
In this virtual group coaching program, I am sharing exactly what I did to figure it out—the tools I used, the books I read, the questions I asked, the process I went through, the secrets I found. And you'll get the bonus of what I wish I'd had the time—a community of other people who are asking the exact same questions and figuring it out with you.
I'm pouring all of my best stuff into this group.
And this group coaching program is the most affordable way to get these tools and do this work.
If you're questioning your career, your relationship, or what the hell you are doing on this planet, please join us. We will help you figure it out.
If you are feeling not "normal" because you're questioning where you should be in your career, relationship, home, or any other aspect of your life—well, that's normal, too. A LOT of people are going through this, and a LOT of people are questioning whether they're normal to be experiencing what they're experiencing.