Are you always re-resolving to "be more present" and "enjoy life more," only to get knocked down by the bumps in the road of your life?
Do you struggle to handle emotions like sadness, anger, guilt, jealousy, and loneliness?
Do you feel like you suck at meditating, because you just can't stop your always-working mind?
Do you try to engage in a mindfulness or centering practice, but you feel like you're doing it all wrong? Like you can't breathe the way you're "supposed" to?
Get thee to a bookstore or library, STAT.
This book changed my life.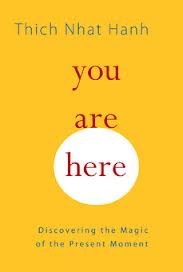 I've had numerous people tell me that it changed theirs, too.
After a lifetime of struggling to get out of my head, this is THE book (well, in partnership with another book by the same author, mentioned below) that created my first "mindfulness breakthrough."
My recommendation of it is one of the best gifts I can give you.
A Buddhist Zen monk, Thich Nhat Hanh writes from a Buddhist perspective, but his writing is accessible regardless of your faith or background.
His writing is as clear, wise, and unpreachy as anything I've encountered. (If you would like to be more spiritual but are turned off by all things "woo-woo," I urge you to give this a try.)
As he explores universal human challenges, Thich Nhat Hanh presents powerful concepts and practices that can help you experience more joy in your everyday life, and skillfully recover from challenges large and small.
His metaphors will help you stay centered and regain your sense of power and sense of self when you're triggered—whether you're grieving a loss, handling rejection, struggling in conflict with a loved (or not-loved) one, or coming to terms with your own choices and actions.
This book can help you learn:
how to be present and enjoy your life right now—no matter what is going on
how to handle strong emotions and "weather emotional storms"
how to cultivate and express compassion for others
how to deal with a painful past and healing old wounds
how to work with strained relationships
TNH has a LOT of books. You Are Here is the one I recommend to most people to begin.
A few others that are wonderful:
The Art of Power—cultivating and using your own true power
No Death, No Fear—dealing with our concepts of death, fear, grief, and the nature of existence
Reconciliation: Healing the Inner Child—using mindfulness practice to help heal childhood suffering and trauma
Happiness—a guide and collection of practices for living your daily life with full awareness
Peace is Every Step—my first introduction to Thich Nhat Hanh; finding peace in every moment
A bonus: none of these are books that you need to read all the way through to reap the benefits. No one is too busy to spend some time in Thich Nhat Hanh's house.
Even 5 minutes can make a difference.
And while I said, "This book changed my life," it would be more accurate to say, "This book changes my life." Years after reading them for the first time, I can pick up one of these books like an old friend, sometimes spending just 5 minutes with a favorite section.
It's a reminder when things are good. It can be very grounding when things are hard.
—–
Did this recommendation help you? Pass it on to a friend! And if you read You Are Here or one of Thich Nhat Hanh's other books, come back and tell me what you think!
What are your favorite mindfulness resources? What's your favorite meditative or centering practice? Please share in the comments.