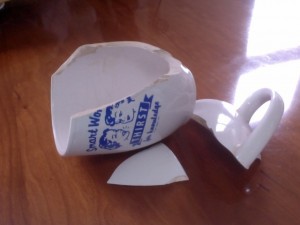 A couple weeks ago, I broke one of my favorite mugs.
There are a million and a half metaphors here, but today I'm writing about three literal instances of breaking things, and what they can teach us about some common, but destructive, relationship behavior.
My best friend gave me this mug over a decade ago, for my first year as a school teacher.
"Smart Women THIRST for knowledge," the mug proclaimed.
Every single school day for nine years, that mug held the tea and coffee that helped to power me. On hard days, reading the mug gave me a little boost.
And now it's broken.
Don't worry—I'm not throwing myself a pity party.
But I AM going to tell you about a pity party I threw a long time ago. And I bet you've thrown the same party.
…